On overlooking, WordPress informs the website admin whenever it finds a newly updated comment on the website. Whether you are about to start a new blog, this feature can aware you of comments newly added that you can answer to and improve user consultation. Nevertheless, these notifications become irritated as your blog stretch since you would begin to get more of them. Thankfully to disable the comment notification emails in WordPress, there is a simple method followed. Here In this article, we will explain to you how the WordPress Comments Notifications turned off.
What is WordPress?
WordPress is a website creation platform that is open-source and free. WordPress is developed in PHP which uses MySQL database. In today's technical scenario, WordPress is the most powerful and simplest website builder.
Why Comment Notifications Are Important?
Visualize that you are visiting a website, reading a post in a blog, and commented on the post. Then you are doing your regular daily routine. Are there any chances that you will go again to the blog and check the comments if any response given to your comment?
Here is why comment notification is important. They become likely as 1st-time visitors into multiple times visitors and permit the readers to keep a mark on the conversations. Now, on the author and admin side, there are several advantages as well. For example, if you move a multi-author website that makes use of comment moderation, every author can be notified whenever a comment is newly posted.
Turning off the comments notification in WordPress
:
Step 1:
Firstly, you must log in to your WordPress administrator area and then click
Settings
then press the
Discussion
page.
Step 2:
From there, you have to scroll down the page to get E-mail me whenever option on which you can able to view the below-mentioned checkbox with two options.
Anyone posts a comment
A comment is held for moderation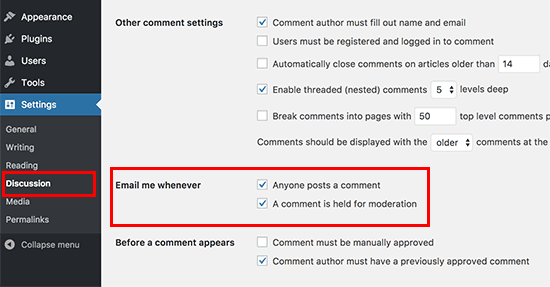 Step 3:
By default, the above-given checkbox option (comment notification email) will be enabled.
Step 4:
To disable these comment notifications, you must uncheck both the option mentioned above.
Step 5:
Now you have to save for the changes you made, click on the save changes button which is at the bottom.
Note:
Simple, now WordPress will no longer send the comment notification emails to the website authors and admin.
How to turn off the comments notification from another WordPress site?
Do you receive an email or comment notification from other sites? If in case, you posted a comment on others blog or if you subscribed to comments, you will receive an email of the comment notification whenever the new comments are added to the blog. Since most of the blogs use an option to subscribe to the comments. You will likely enable the open and would have forgotten to disable subscribe of the comment option.