One easy task in Drupal is the installation of themes. Till now, you would have searched for layouts and colour schemes but the new come over here are blocks with expansions greater than you expect. While building up a new Drupal website, you can bring your own customization as you like. Have one thing in mind that your website should be flexible for your visitors. One of the difficult tasks you go through is finding out the themes in the right manner.
How to install Drupal themes?
Choose the theme first which you want really to execute. Either search from third party tools or get themes from the Drupal website.
Step 1:
In case, if you search themes on the Drupal website, then try to set the core compatibility according to the version you run now.
Step 2:
Tap on the button "
Search
". The theme which in need of Drupal new versions is better for your platform.
Step 3:
Tap on the theme link to download which is in the format tar.gz.
Step 4:
Go to the admin panel and then tap on the tool "
Appearance
". Now, click on the button "
install new theme
".

Step 5:
You would have downloaded the theme on your computer so, start uploading it by just tapping on the button "
install
".
Step 6:
By now, your successful display message will be displayed in front of you. Here, you can see two options below such as install newly added theme and administration pages.
Step 7:
Again, the go-to tool the "
appearance
" to check your new theme uploaded. Tap on the interlinked option "
install and set as default
".
Your website is new to visit now!
How to modify the settings of themes?
Most developers would choose the theme for your website. A theme with many options and tool is entirely dependent upon the thinking of the developer. Just see the edit option in a theme that you want to fix.
Now, look at the options like header, layout, font settings, logo images and colour. Once if you have done all the changes, please tap on the button "
save configuration
".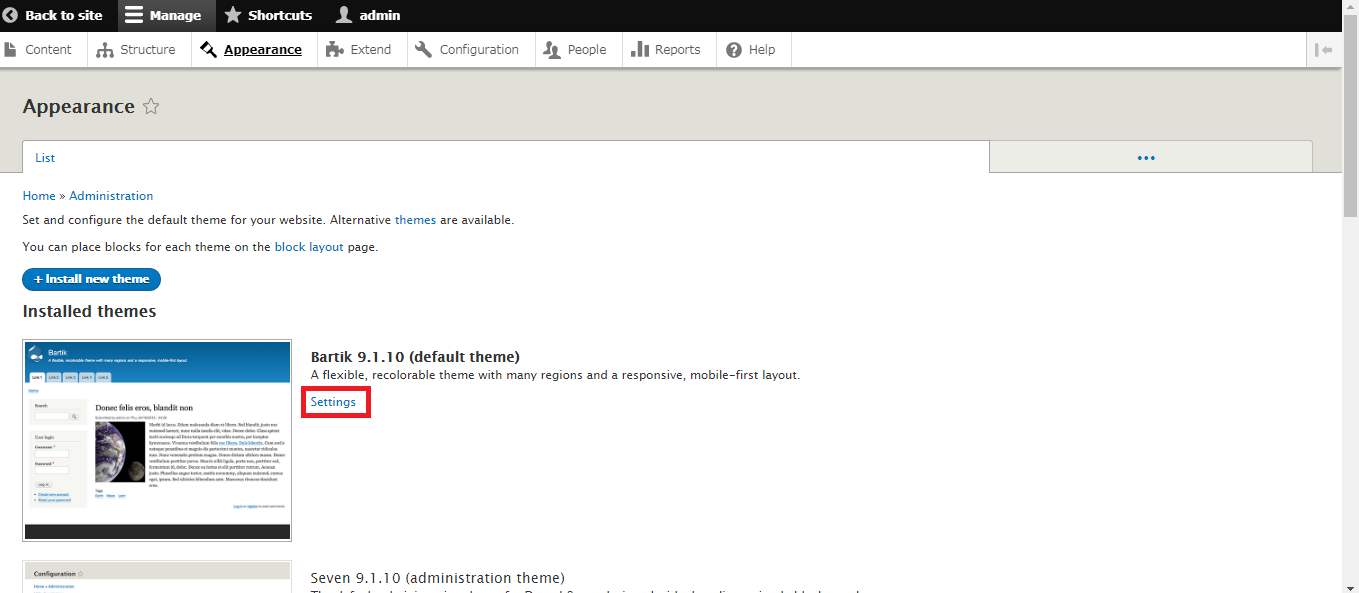 That's it! We have now done all the changes in Drupal themes. Choose the theme which you love most and don't forget to check configurations of all those themes.